OEM MagSafe Chargers vs Cheap Imposters: Teardown for Truth
Anywhere premium products are produced, there are unsavory folks trying to make a quick buck selling cheap knockoffs. It happens in every industry, from clothes to food to tech. But in recent years, counterfeit electronics have surpassed nearly all other categories of counterfeit goods by dollar value, and Apple, being the de facto high-end electronics manufacturer, makes for a prime target.
But you'd never be caught buying counterfeit electronics, because you can tell the difference, can't you?
A Brief History of Apple Counterfeits
One of the most common Apple products, where knockoffs are passed as OEM, are MagSafe adapters. There was even a huge controversy a few years ago where Amazon was selling knockoffs as OEM; Amazon has since fixed that particular issue, but knockoffs are still out there, and detecting them is getting harder.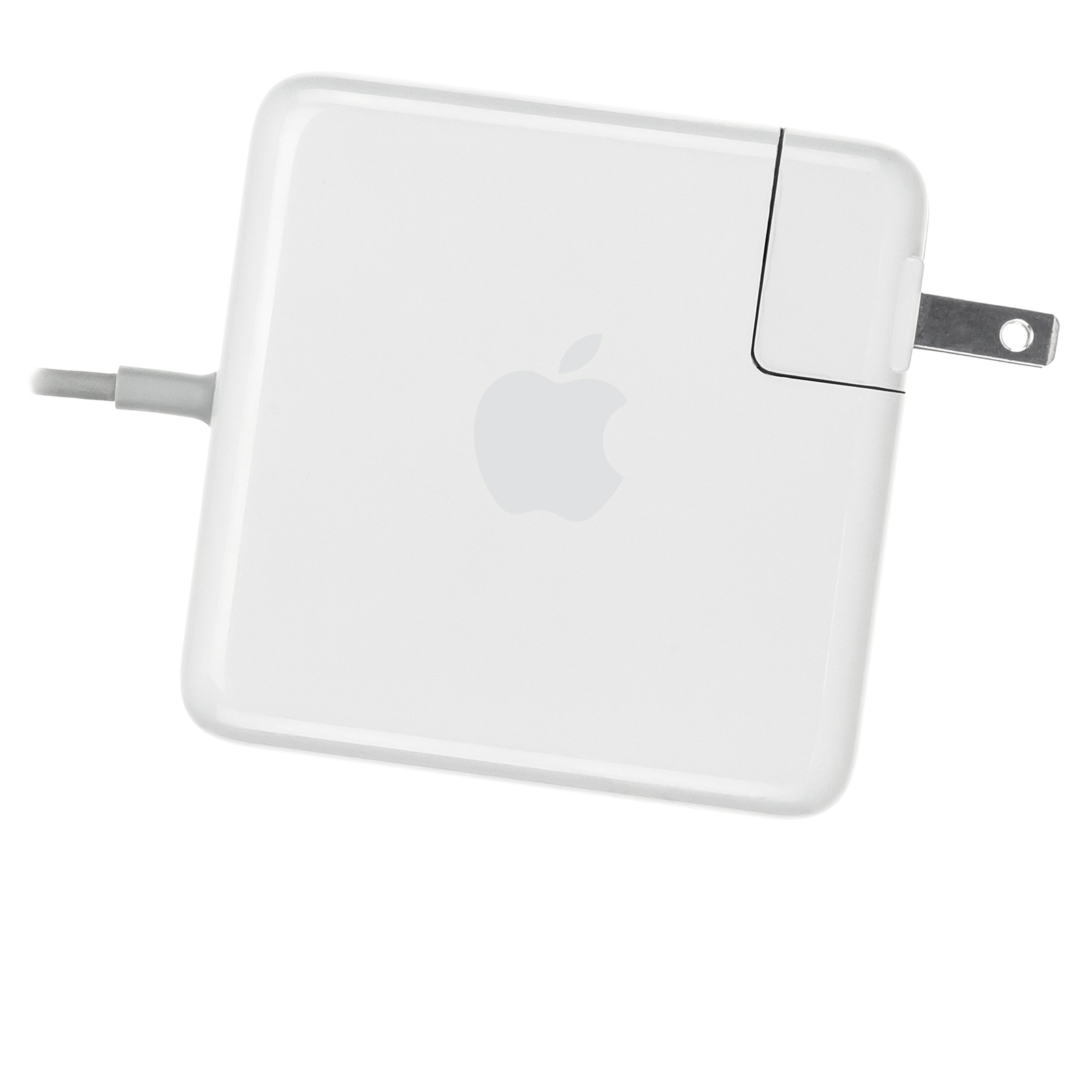 How To Spot A Fake?
If you're looking to buy a replacement charger and want to know if the one you are getting is real, it may be hard to tell. It used to be that knockoffs were easy to spot. Recently, these counterfeiters have started doing a pretty good job replicating Apple's exterior design to look quite a bit like the OEM parts they are trying to replace. Of course, the easiest thing to do is make sure you buy your charger from a trusted source.
At Beetstech, we make sure everything we send out is thoroughly tested before it reaches the customer. Obviously, anything that advertises itself as third party should be taken as such. There are a few cosmetic differences on the less than honest brands, often the lettering will be a slightly different shade, darker, or even a little blurry. These differences can be hard to spot without a side by side comparison.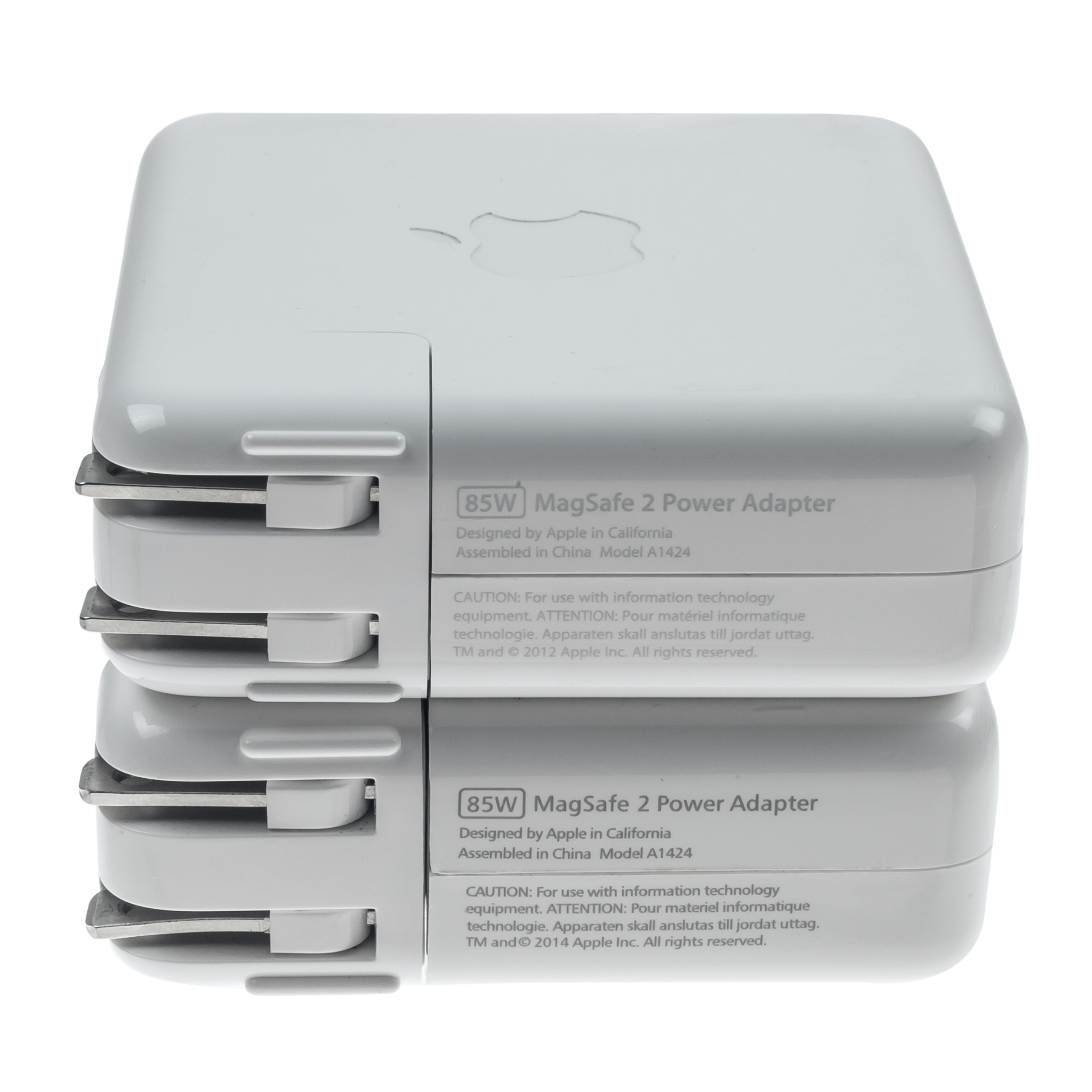 Notice the knockoff (bottom) has darker text.
But let's say you already bought one, or maybe you bought a MacBook secondhand and suspect it came with a less than reputable MagSafe. Luckily, there a few easy ways to tell a fake from the real thing, once you have them in your hands.
The quickest way is to plug it into your MacBook. If the LED turns on right away, or in less than one second, it's definitely a fake. OEM MagSafe LEDs are turned on by the actual computer. There is a brief handshake protocol where the Mac looks to make sure everything is working correctly with the MagSafe.  When it is satisfied everything is in order, it sends a signal to MagSafe internal chip to turn the LED on.  This process takes a little over one second, causing a noticeable delay in the LED. The LED on fakes may also stay on after they unplugged. I have seen some that have stayed on for close to five seconds, a sure sign they were fakes.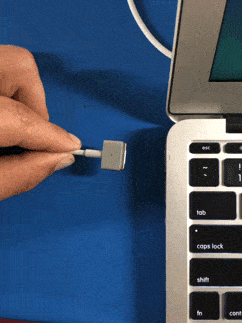 OEM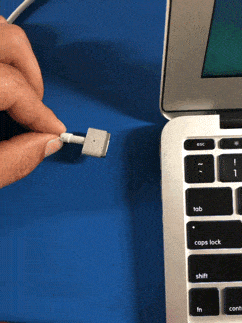 The knockoff comes on
Several sources online told me that you can also check the authenticity in the system information.  Go to About this Mac>System Report>Hardware>Power, then scroll to the bottom.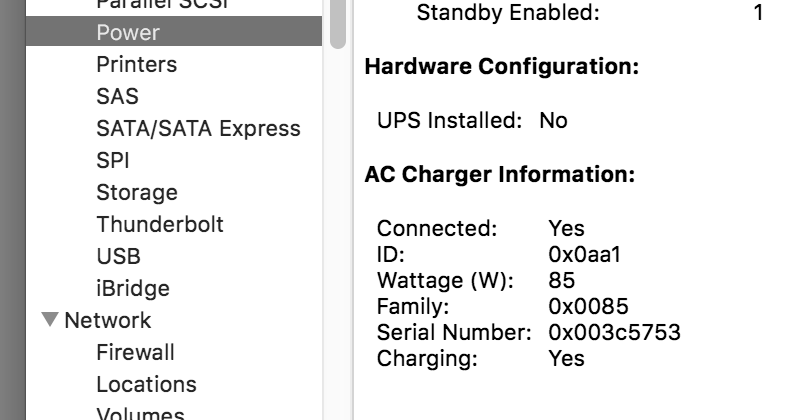 OEM MagSafe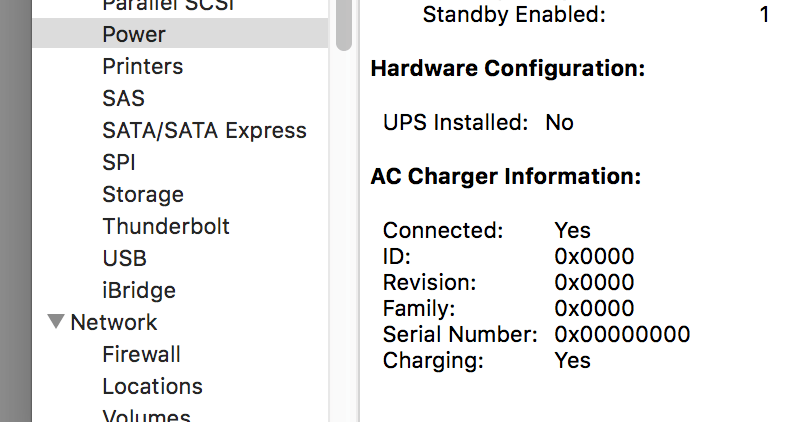 Counterfeit MagSafe
This has all the information about the MagSafe, including the serial number.  Some knockoffs might not have this information, but sometimes good fakes do have some of the correct looking information that looks reliable to the untrained eye.  It is possible that the serial number doesn't match anything, but since Apple has no way to search these serial numbers, I can not always recommend this as a reliable way to determine the authenticity of the MagSafe. One thing I have noticed is that a good knockoff may be labeled as a certain wattage, but the System recognized it as a different wattage. So, that's something to watch for. This information is stored in a microchip in the MagSafe connector, so it may be the knockoff simply used the wrong one.
There are a few other indicators that a MagSafe is not real.  One quick test is the weight. Often knockoffs will be lighter since they use cheaper smaller components. Again, the easiest way to know is holding a known OEM MagSafe in one hand and the suspect one in the other hand and comparing. When I weighed the two 85W chargers I was comparing, the OEM weighed in at 306 grams and the knockoff was 200 grams.  Not a huge difference, but it is noticeable.
There are a few other indicators that a MagSafe is not real.  One quick test is the weight. Often knockoffs will be lighter since they use cheaper smaller components.  Again, the easiest way to know is holding a known OEM MagSafe in one hand and the suspect one in the other hand and comparing. When I weighed the two 85W chargers I was comparing, the OEM weighed in at 306 grams and the knockoff was 200 grams.  Not a huge difference, but it is noticeable.
There also may be noticeable differences in the seams.  Apple has fairly strict manufacturing standards, while the cheap ones usually don't.  This often leads to the seams being less-than-perfect.  The collapsible cord holder tabs can also be looser, or sometimes they can be harder to extend.  Apple's will be secure yet operate smoothly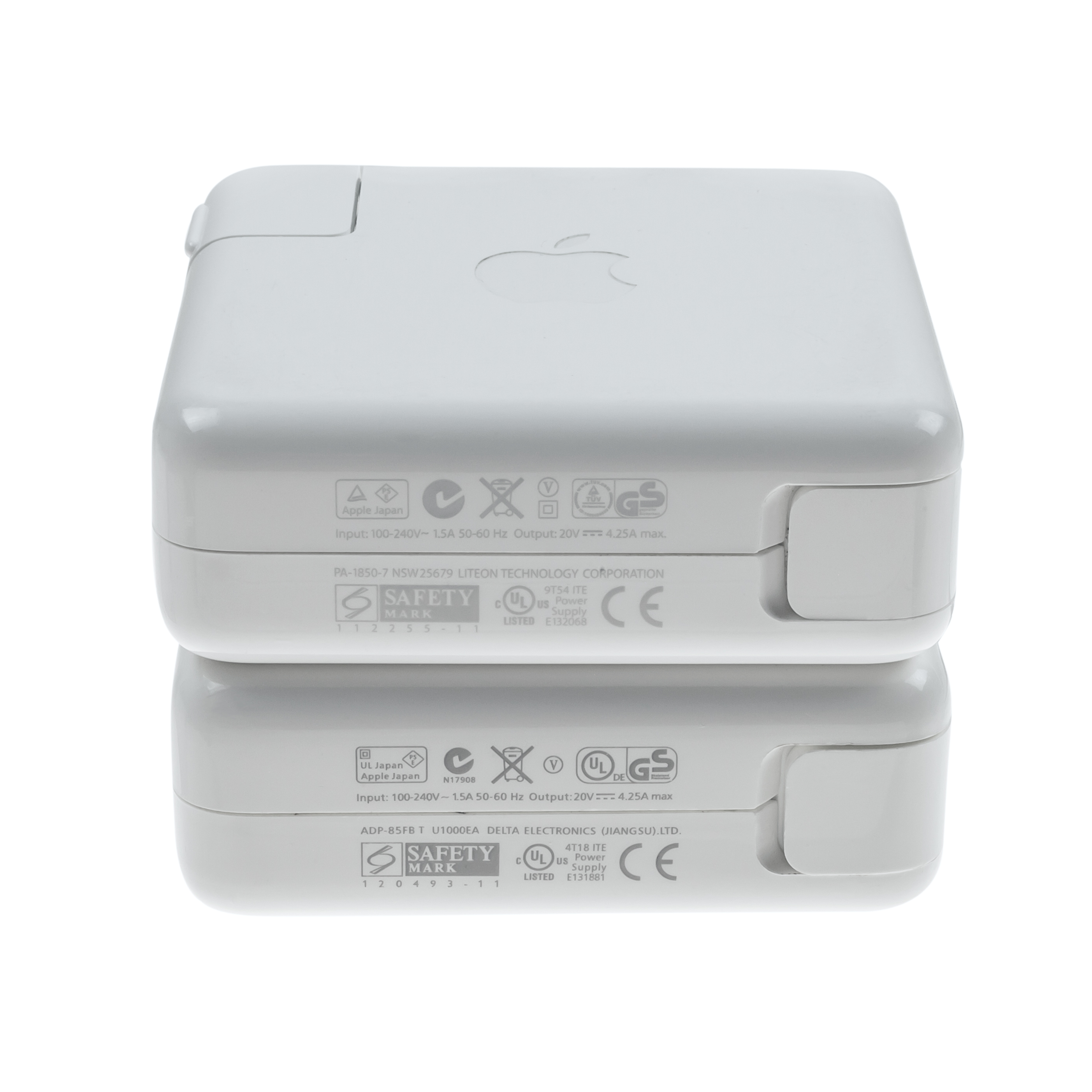 The fake MagSafe has uneven seams. Apple's cord-holding tabs fit snugly.
Teardown
Let's get into the insides, the place where the differences become stark.   This is where the answer to, "Does it really matter?" becomes most obvious.
The first thing I noticed when taking these apart is how much easier the knockoff MagSafe came apart.  I barely had to apply any pressure in order to crack the glue.  Once it was cracked the entire thing came apart easily.  With the OEM charger, it was much more of a fight. A lot more pressure was required to even crack the glue, and even then I had go along the seam and keep pulling glue apart.  That shouldn't really be a big deal considering there is no reason to take them apart, other than to see what's inside.
OEM MagSafe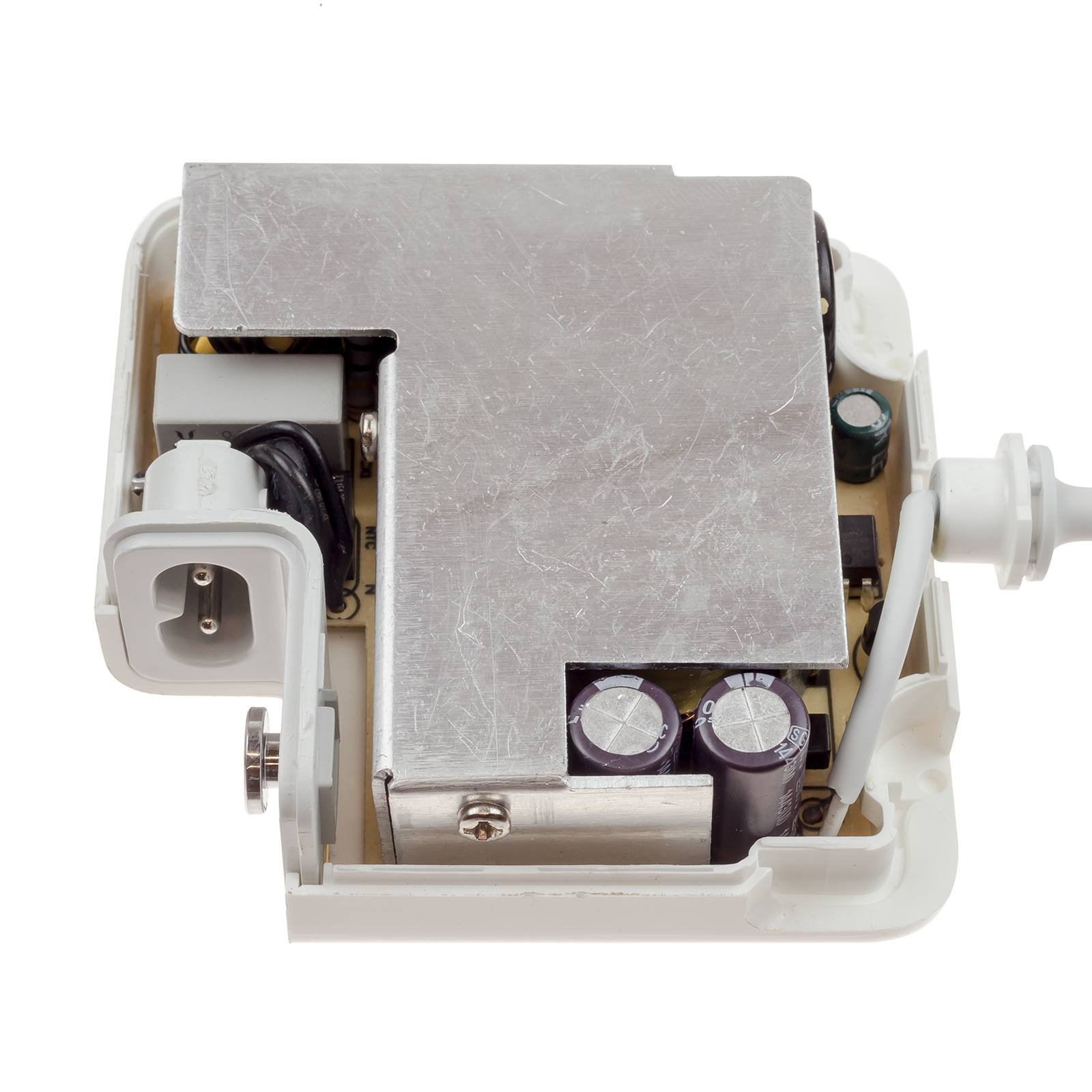 Knockoff Charger
Now that we are inside, the differences are clear from the start.  Apple's MagSafe is extremely well protected.  The whole thing is encased in a copper sleeve with a protective tape underneath it. This is most likely to protect the device from any outside interference and to keep it from causing any interference, a small Faraday cage. The knockoff has a small piece of cheap steel.  This doesn't seem to provide much of anything other than a little bit of extra weight. We can also see that, sure enough, the ground post is not hooked to anything.  Even if was made of metal (it's not, it's chromed plastic) it would not provide any connection to a ground from a wall outlet.  It is literally cosmetic. Another small difference of note is the screws.  Apple has taken the time to countersink their screws, where the knockoff's don't.  This probably has more to do with saving space than anything else, but it does show an extra layer of care by Apple.
When we remove those "protective" layers, it's like we're not even looking at the same item.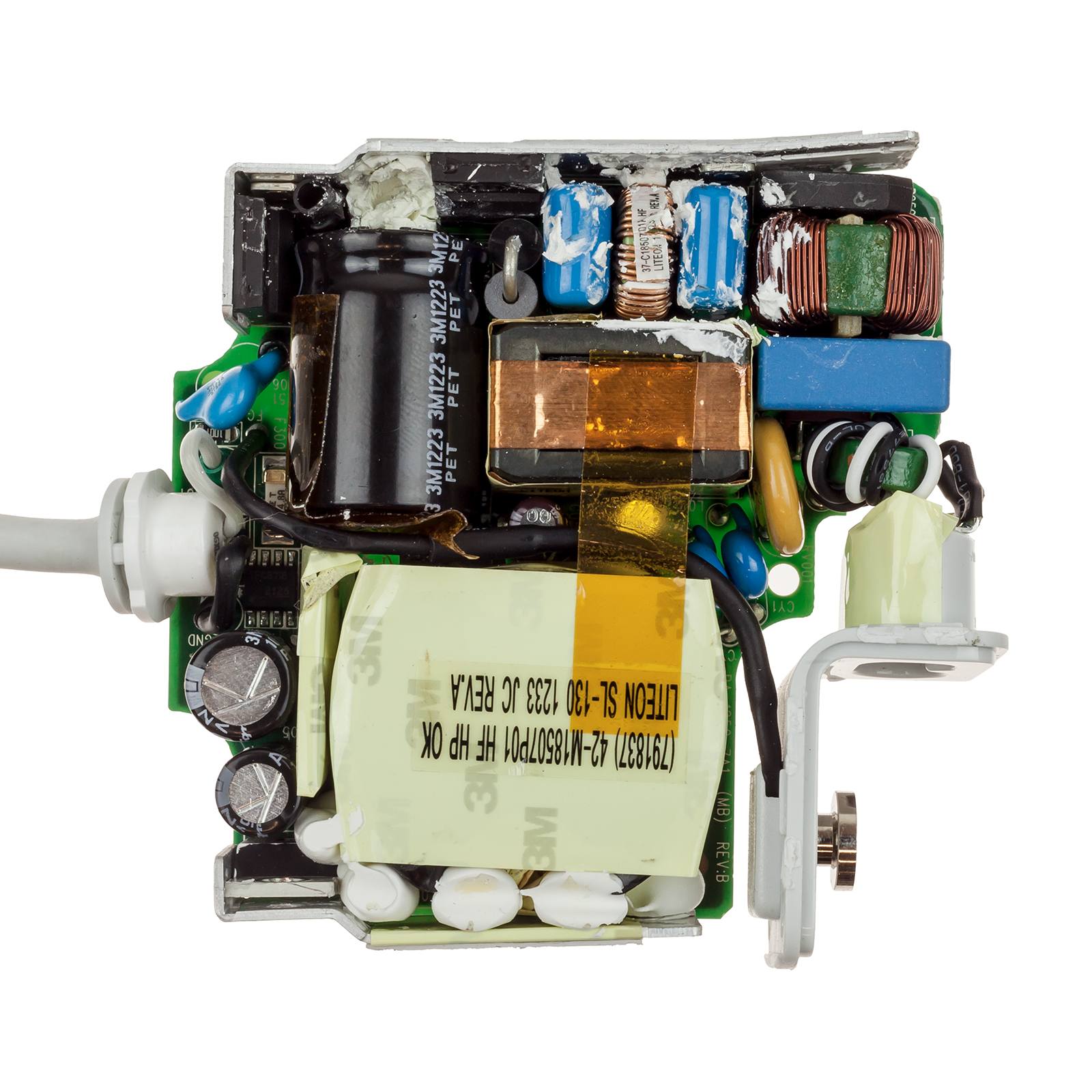 OEM MagSafe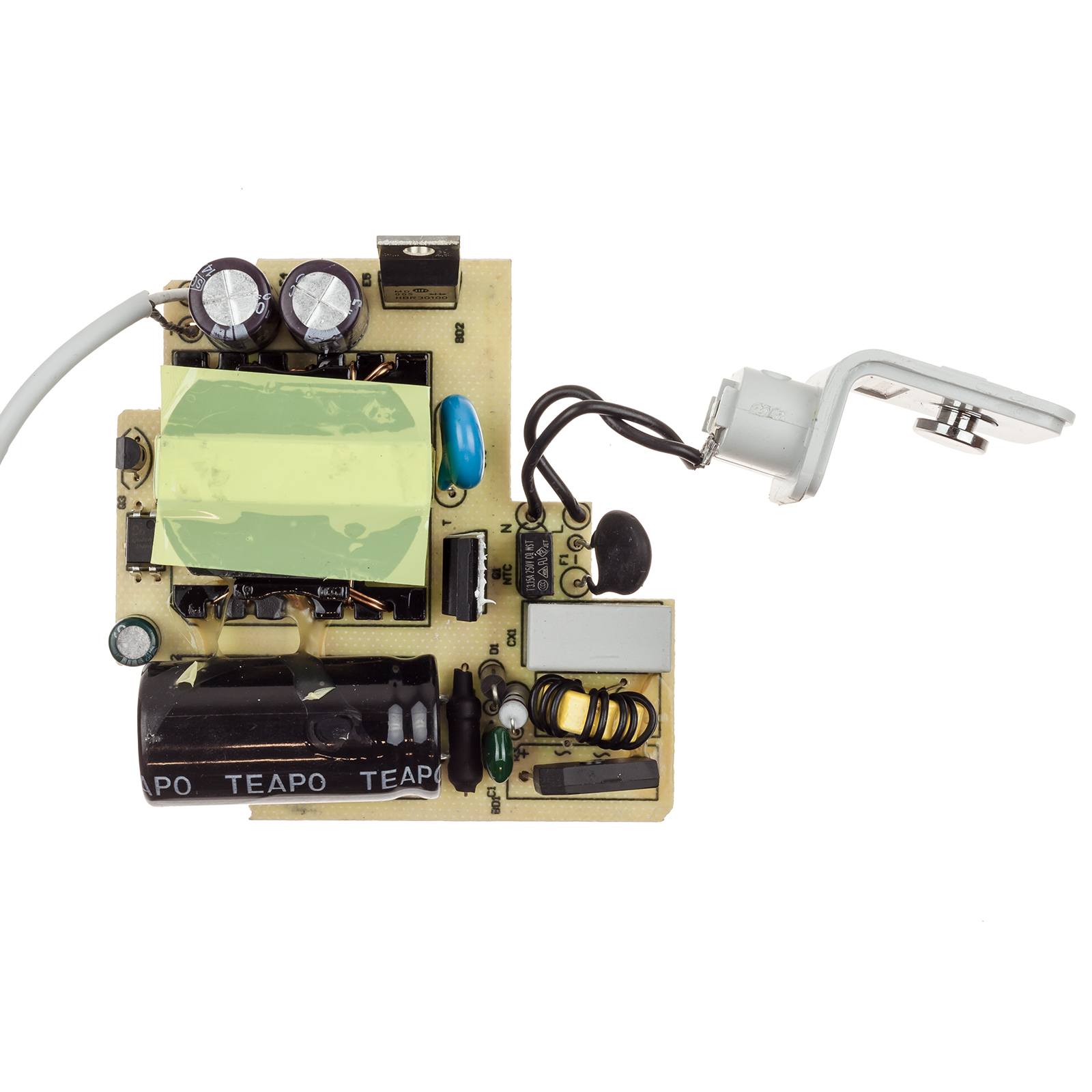 Knockoff Charger
Apple's MagSafe is crammed full of components. There are two transformers.  The main one is a bit larger, making it a bit more reliable.  These two transformers provide higher and lower voltage.  The knockoff only has one, which is why it has a constant output of 20 volts. It's hard to tell, but to the right of the larger transformer (the big yellow tape covered one) is another covered piece: an internal processing chip that communicates with the laptop to decide which power setting to use.
Then, there are the safety issues.  The knockoff charger uses smaller and cheaper resistors, transistors, and capacitors.  The main capacitor in the knockoff is larger, but the rating is actually higher on the Apple OEM MagSafe. Cutting these corners means there are more places where things can go wrong.  I've witnessed what happens when a resistor pops, and it's not fun to see smoke and a funny smell coming from your electronics.
There are also whole components missing; some of them just provide more channels to keep the electricity in check, but a big one that is missing is the Power Factor Controller This device makes sure you are pulling the right type of power from your AC wall socket.  It is required in Europe, and not having it can lead to higher costs from energy companies and a less-than-efficient conversion from AC to DC (the whole point of a MagSafe).
When we flip these over, we can see even more problems.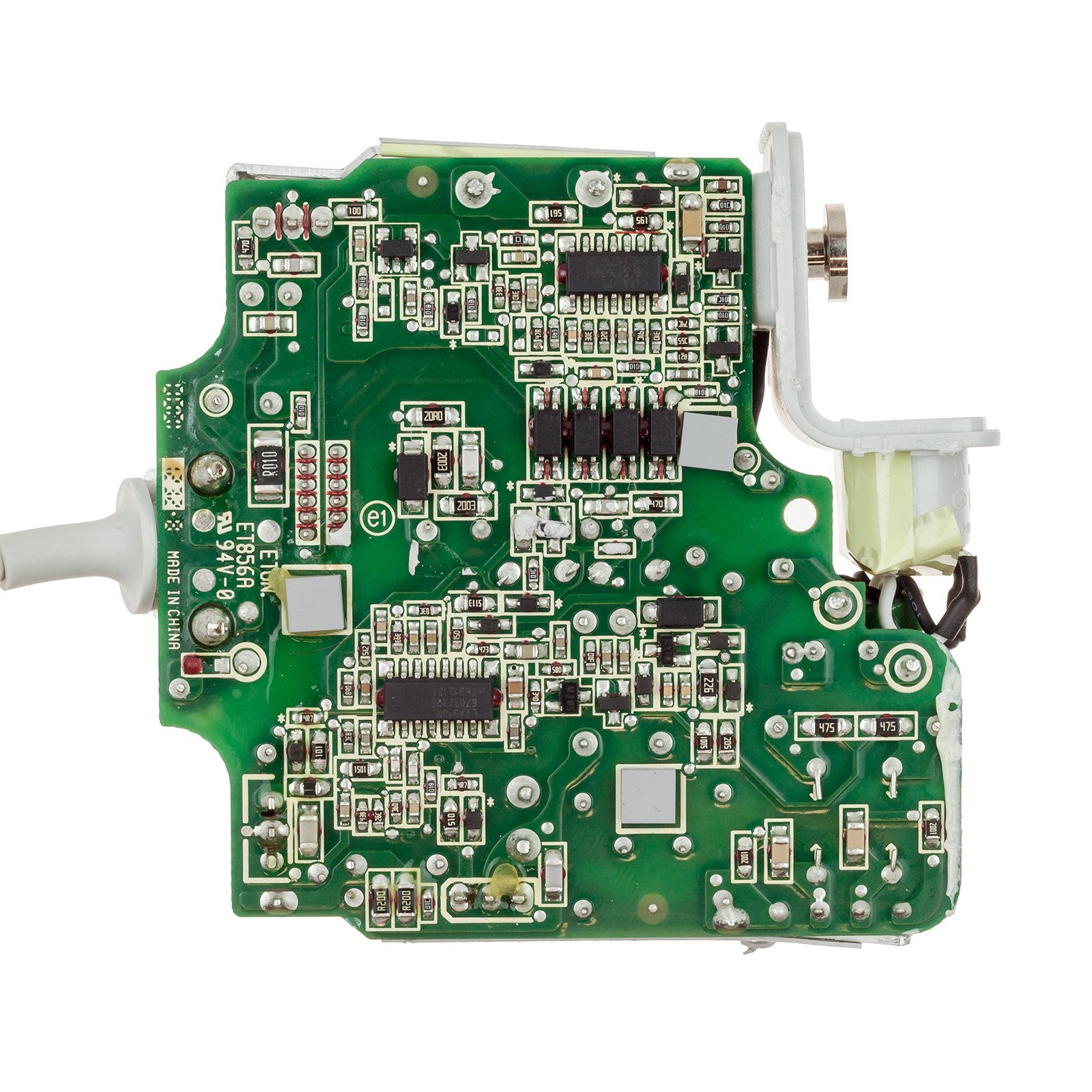 OEM MagSafe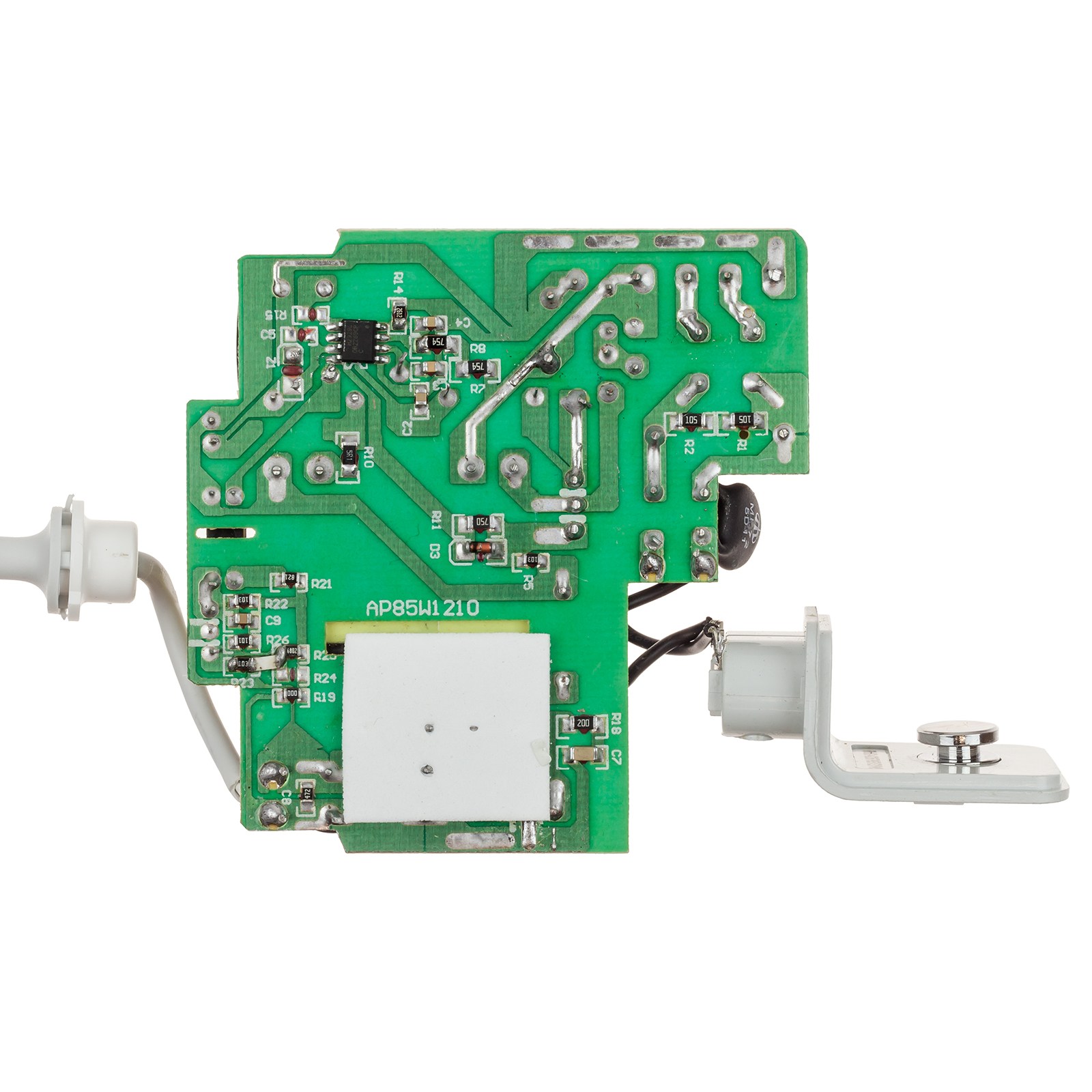 Fake Charger
With more components, we would expect to see more circuitry on the back, but wow! What a difference. Again, we see Apple using resistors with much higher ratings.  Also, despite having vastly more components, Apple has a more organized circuitry.  On top of that, they have kept the proper distance for parts that should never touch.  You can see a clear line of delineation (starting in the bottom left corner and heading 45 degrees up) that keeps high and low voltage separate. Even with the all the extra space the knockoff has, it's harder to see any such safety line.
In fact, there a few places where the solder just overlaps onto other components or comes dangerously close. This is visible in the lower left of this image. Two components are accidentally soldered together.
Fake Charger with bad soldering job
Remember, you're plugging this into a wall socket and then into your computer.  These kinds of mistakes can mean more than just a failed charger; they can ruin your computer or, worse, start a fire.  Considering the complete lack of any other safety measures in the knockoff charger, I wouldn't want to take that gamble.
Takeaway
Ultimately, I would say it's best to always buy from a trusted source.  Even then, check your MagSafe to make sure it is a legitimate.  If you end up with a fake, don't use it. If you bought from a reputable retailer, you should be able to get a refund or exchange. It might cost a little more to know you're getting an OEM MagSafe, but it is definitely worth it.   The lack of any quality control or safety measures are worrisome, and the simple fact that it doesn't behave correctly means a risk to your battery and your power bill.  They might be cheaper initially, but they will cost you more down the road.
Show Your Love For This Post
80